The
Ultimate
Wedding
Band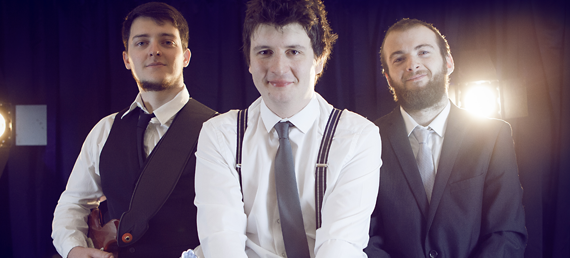 All Inclusive Prices, Professional Management, Fully Insured, Industry Standard Sound System, FREE Disco, Stage Lighting, Disco Lighting, PAT Tested Equipment, Massive Repertoire from 1950's - Current Chart, Daytime Acoustic Option.... You've found what you've been looking for! The perfect band for your big day!


It's the biggest night of your life so far so you need a band that you can rely on! You don't want a small time local pub band who play what they want regardless of the audience. You need a professional band who have a wealth of experience, hundreds of satisfied customers and set list that everyone is going to love! Well Congratulations! You've found them!
The Secret Spitfires have a reputations as England's top professional wedding band. With the exception of a few corporate Christmas parties and award ceremonies, weddings are all they do! You won't find them playing the local pub on a Friday night for £200 and then pretending to be a professional wedding band the night after because weddings are what they do!
On
The
Night
How you format the evening is completely up to you! As standard, the band's arrival time is 6.30pm and it takes approximately 35 minutes to get setup so they're pretty much ready to go from 7.00pm. The format of the sets is completely up to you but below are some suggestions of how you may want to arrange the band's 2hrs live playing time:
-2x 1hr set
-3x 40min sets
1x 45min set & 1x 1hr 15m set - RECOMMENDED
Unlike some bands, The Secret Spitfires invariably choose their live set list, on the night as they go. Every audience is different and picking the set list like this allows them to adapt and change to suit the mood of the evening and the type of crowd they have in front of them. It's this expertise that sets professional wedding bands apart from many other bands in terms of making your night a success! The band are also happy for you to choose a few favourites from their repertoire in advance and if possible, they'll try to include them in the set!
In between sets, the music doesn't stop. Before, between and after, the band provide a complimentary disco service so your guests can stay on the dance floor and throw their shapes! It's also becoming increasingly common for Brides & Grooms to create their own playlist and plug their iPod or MP3 player (or phone) into the band's PA system so they know the songs of their choice are going to be played. 
Daytime
In addition to the fantastic evening performance, the band do also offer a superb acoustic set in the afternoon from 2pm.
The
Booking
In the run up to the big day, you'll have some questions and it's likely that your venue will too! Any event manager will tell you that it's normally a nightmare to get hold of the band and get their insurance certificates etc... but with The Secret Spitfires, that's not the case. The band are professionally managed by one of the most respected figures in the industry and consequently, you can expect a fantastic level of customer service and a prompt reply to your emails and queries.
Payment
We know that getting married can be an expensive time so we offer four different payment options to suit different people's circumstances.
Standard - 50% of the balance is payable as a deposit at the time of booking and the final balance is due 28 days before the date of the wedding,
Interest Free 4-Stage Payment Plan (Most Popular) - Pay your balance in 4 equal, installments, spread between now and your big day.
Interest Free Monthly Payment Plan - We offer an interest free, monthly payment plan whereby you can spread the cost of the booking between now and the month prior to the big day.
Pay Balance In Full At Time Of Booking - Pay the balance of your wedding in full at the time of booking.
Why
Book
The
Secret
Spitfires
-'Professional Full-time' Wedding Band
-Tailored 5 Decade Set List
-Complimentary Disco Service
-All Inclusive Prices
-Industry Stand PA System
-LED Lighting (Stage & Disco)
-Fully Insured
-PAT Tested Equipment
-Flexible Payment Terms
-Optional Daytime Acoustic Set
-Available Nationwide
-Professional Management
-Contractual Bookings
Price
&
Availability
Check